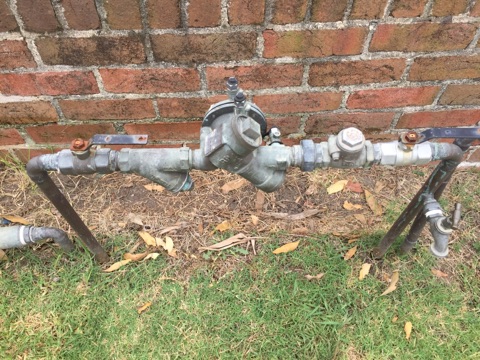 When you hear the word 'Backflow', unless you're a plumber or in the building industry, some people tend to think this is their toilet backing up and "Backflowing" into the bathroom. This is not the case at all!
Backflow is when our clean water also known as "Potable water" becomes contaminated due to a significant change of pressure in the line which allows water to be drawn back that can be contaminated.
To explain this on a smaller scale, say you're filling up the kiddy pool. You place the hose in the pool and let the hose become submerged in the water. Then as the kids are playing one of them decides it's time to use the pool as the toilet and create a submarine, then there is a sudden change of pressure in the water main.The contaminated pool water with the submarine can be sucked back and could contaminate our clean drinking water.Normally to prevent this kind of contamination you just leave and air gap where the hose is not sitting in the baby pool and this prevents the submarine floating upstream!
On a larger scale, backflow prevention devices are needed. These are required for underground rainwater tanks connected to mains, fire hose reels or hydrants, water outlets in close proximity to pollutants, grease traps, and chemicals, irrigation systems, any machinery commercial or industrial that may be connected to mains water.
Places that may require some form of the backflow prevention device are schools, hospitals, vehicle repair workshops, car and plant washing facilities, day care/Kindergartens, Medical and dental facilities, shopping centers, motels, unit complexes and restaurants.
Backflow Prevention devices come in a range of sizes with different specifications depending on what they are needed for. If you have one of these on your property or at your business they need to be tested annually to ensure they are working correctly. We at AJB Plumbing can carry out these tests, make any repairs if needed and can send you an annual reminder of when your backflow prevention device is due for its annual test.
If you need to have a backflow prevention device installed and commissioned in your premises we can also point you in the right direction for these requirements.
So if you have any questions or would like one of our friendly staff to get back to you in regards to preventing our clean water being contaminated by using a backflow prevention device please fill out the quick contact form and we will be happy to help you.
Contact Us
Plumber Gold Coast – AJB Plumbing services
Bonogin, QLD 4213
07 561 32695
info@ajbplumbing.com.au